Since 2019 there has been a new concessionaire at the terminal, the SCCT - San Cataldo Container Terminal Company controlled by Yilport Holding a.s. - 24% shareholder of the shipping company CMA CGM - among the most important port operators worldwide that already operates in other 21 ports globally. The Multipurpose Pier project at the Port of Taranto involves a major strategic re-positioning of the terminal in the central Mediterranean with progressive achievement of significant traffic targets.
The infrastructure represents an intermodal hub in the heart of the Mediterranean capable of accommodating the latest generation of ships, with:
| | |
| --- | --- |
| | an extension of 1 million square meters |
| | |
| --- | --- |
| | a seabed depth that will be brought to -16.5 m by the end of 2021 |
| | |
| --- | --- |
| | a capacity of 2/2.5 million TEUs |
The provision of 900 reefer container sockets also opens up prospects for the development of cold logistics, to the benefit of the agri-food chain.
QUICK CONTAINER FORWARDING BY RAIL AND ROAD.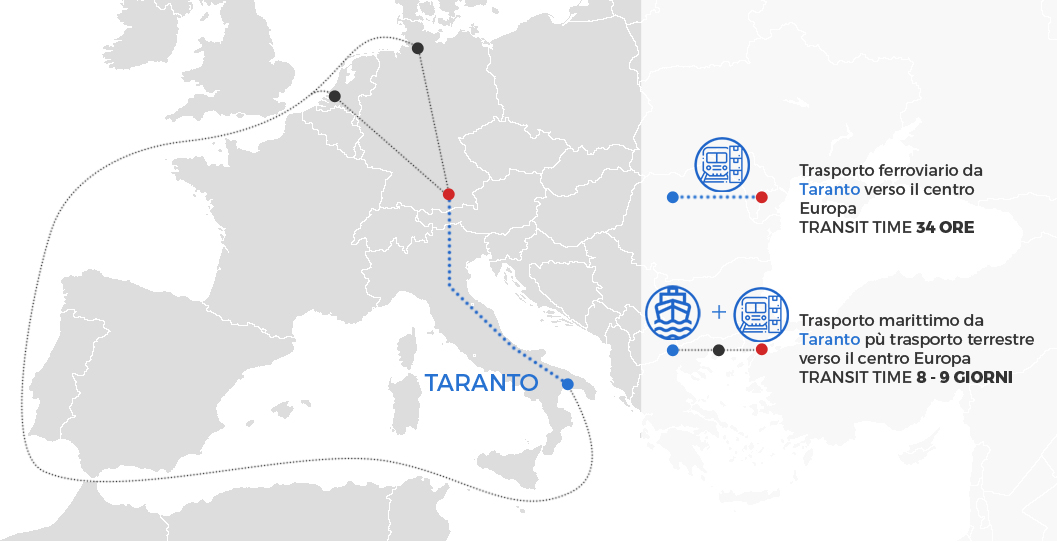 There are first-class facilities at the terminal for loading and unloading container trains, thanks to a strip of five tracks connected directly to the national rail network on the west side. Two rail-mounted gantry cranes ensure the rapid loading and unloading of containers from trains. The transit time for containers from the Port of Taranto to Central Europe (Munich-Riem terminal) is approximately 30 hours. Lorries entering/leaving the terminal have immediate connections to the national road network. The connection to the motorway network is 15 km away and there are no bottlenecks.
GALLERY ICON CONTAINER TERMINAL PHOTO GALLERY