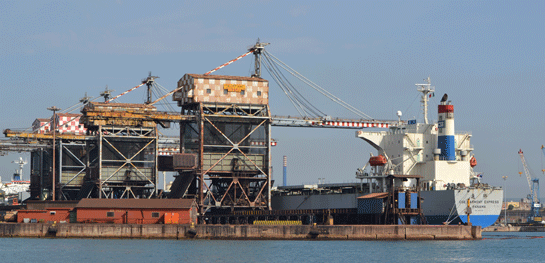 Steelmaking has been the main engine of Taranto's economy since the early 1960s when a major steelworks was established there. Privatised in 1994 and acquired by the RIVA Group, this steelworks is run by ILVA S.p.A.
The Taranto plant has maintained its leading position in the world market in spite of mixed fortunes in the steelmaking sector.
The steel industry is the Port of Taranto's biggest customer. ILVA has the concession at four piers (Nos 2, 3, 4 and 5) and one quay (No 3) providing a total of 4,589 metres of wharfage with up to 25.0 metres draught and 931,000 square metres of operating areas. These facilities are used for discharging raw materials such as coal and iron ore and for loading and discharging finished and semi-finished products including billets, coils, pipes, sheets and slabs.
Total annual throughput of steel-related traffic is over 30 million tonnes including raw materials and finished products. Annual throughput of finished products is about 10 million tonnes.
HANDLING EQUIPMENT
The steel terminal has a wide range of equipment for handling raw materials and products:
Six grab cranes of 42 to 63 tonnes capacity for discharging raw materials

One continuous unloader with a maximum rate of 7,200 tonnes per hour for minerals and 3,600 tonnes per hour for coal

Four grab cranes of 30 tonnes capacity for handling scrap

Twelve units of 32 to 63 tonnes for loading and unloading of products

One continuous loader with a maximum rate of 1,100 tonnes per hour for blast furnace slag

Four conveyors linking port with raw materials stockpiles:
Two of 3,600 tonnes per hour capacity for minerals (1,800 tonnes per hour for coal)

One of 7,200 tonnes per hour forminerals (3,600 tonnes per hour for coal)

One of 1,100 tonnes per hour for slag.