Port System Authority of the Ionian Sea - Port of Taranto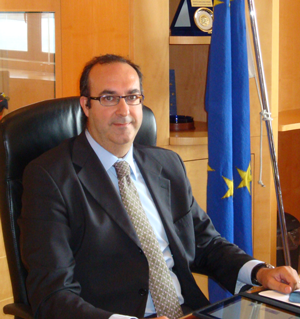 PRESIDENT
SERGIO PRETE
---
Mr. Sergio Prete was born in Taranto in September 1967.

He graduated in Law at the University of Bari in 1992 and started working as a lawyer in Taranto, in 1995. Coordinator for professional training at the "Fondazione Scuola Forense" presided over by the Bar Association of Taranto. Professor of Navigation Law at the I and II Faculties of Economics at the University of Bari "Aldo Moro" since 2004. He has participated as a speaker at a number of different international conventions and seminars, on the subject of port, maritime, transport and logistics law. He is the author of two essays, books and articles of note, with the title : "the Shipping Agent and the evolution of Law" (Giuffrè Editore, 2009) and "The touristic and water activities enterprise".
Furthermore, he is the author of "The management of the port domain in the context of EC law and Federalism" (Progedit, 2011), of numerous articles of note on the subject of various Court rulings which were subsequently published in various different magazines and journals in the maritime and transport fields. He has also had works published in the Italian Legal Codes book published by UTET.
On the 21st December 2012, he was nominated Member of the "Expert Committee" of the Shanghai International Shipping Institute – the research institute from Shanghai which supports the Chinese Government and private/public Chinese maritime operators in the transport and logistics sector - with whom he cooperated in the research field.
From 2013 to 2015 he has been appointed vice-president of the Italian Port Association (Assoporti) and – from the 2014 to 2016- President of the Apulian Ports Assosiation (APP).
From 2011 to 2015 he was appointed - with decree n. 233- President of the Port Authority of Taranto, and subsequently, in 2012, he has been appointed Commissioner Extraordinaire for the realization of the works in the port of Taranto with the decree of the 17.02.2012
From 2015 to now, he is member of the Permanent Institutional roundtable of the Institutional development Contract for Taranto area.
On the 13th of July 2015 he was appointed Commissioner Extraordinaire of the port of Taranto with decree nr 238 of the Ministry of Infrastructure and Transport. This latter appointment has been confirmed at first on the 13.07.2016, - with decree nr. 4- and then on the 14th of July 2016- with decree nr.240- until the 4th November 2016.
On the 10th November 2016 he was then appointed President of the Port System Authority of the Ionian Sea with decree nr. 362 of the Ministry of Infrastructure and Transport . He is going to cover charge for 4 years.