The 'Artania' inaugurates the 2022 cruise season in the Port of Taranto.
PORT OF TARANTO, 27 MARCH 2022 Today, 27 March, the port-city of Taranto welcomed the luxurious cruise-ship Artania, belonging to the fleet of the German company Phoenix Reisen. The ship, arriving from Syracuse, called the Port of Taranto at noon greeted by the festive water salute by the tugs.
The terminal operator Taranto Cruise Port has restarted activities at the cruise terminal, activating the necessary passenger transit services. Out of the 558 cruise passengers, mostly German, 250 decided to visit the local area with tours organised by the Company. The other guests onboard the Artania opted for free tours to enjoy the full tourist experience in Taranto, taking advantage of the shuttle service organised ad hoc by Taranto Cruise Port in collaboration with Kyma Mobilità AMAT.
The traditional maiden call ceremony took place at the cruise terminal with the exchange of CRESTS between the Port Network Authority of the Ionian Sea and the ship's Commander, attended by the Prefecture Deputy Commissioner of the Municipality of Taranto, Dr Michele Albertini.
The call of the Artania officially inaugurates the 2022 cruise season in the Port of Taranto. With the successful closure of 2021 with more than 80,000 passengers, the Ionian port is preparing to welcome even greater numbers. As already announced last year, the current season foresees an unprecedented variety of cruise lines that will sail the Gulf of Taranto, calling at the port for the first time. In addition to the Phoenix Reisen, the 2022 season will see passengers from eight other companies arriving in the city: MSC Crociere, Marella Cruises, TUI, Celebrity Cruises, P&O Cruises, Road Scholar, Sea Cloud, Noble Caledonia. Also confirmed this year as the partial turnaround port for MSC Crociere, the Port of Taranto will welcome the refined MSC Splendida every Wednesday from 6 April to 9 November, the closing date of the cruise season. Furthermore, thanks to the recent infrastructural upgrade of the East side of the St. Cataldo Pier, the Port of Taranto will be able to accommodate two large ships at the same time.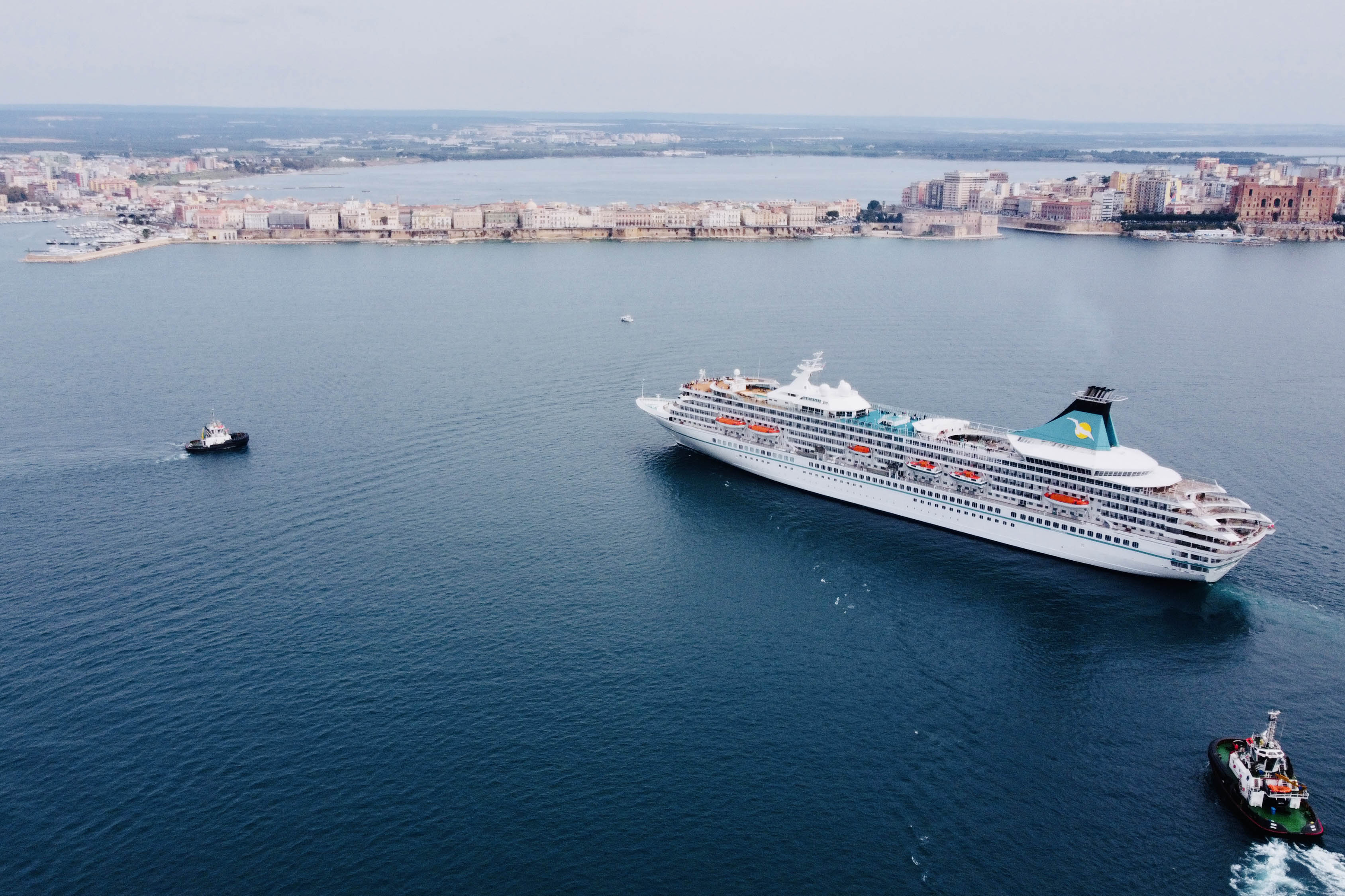 "The growing range of cruise lines choosing to call at Taranto confirms the new normality: Taranto is becoming an increasingly popular cruise destination," says the President, Sergio Prete. "The Port Network Authority maintains its constant commitment to repositioning the city as a tourist destination of excellence in the Mediterranean. Considering the increase in passenger traffic and the return to independent tours, we have launched coordination boards with institutional stakeholders and private operators to guarantee the best welcome to passengers in the city, always ensuring the development of sustainable tourism for the port ecosystem and the local community. We are confident that 2022 will bring significant results not only in terms of growth in cruise traffic but also of economic benefits for the region."

"The bet that Global Ports Holding made on the Port of Taranto is won: the numbers for 2021, and even more so for 2022, demonstrate the growing importance of the port in the Mediterranean cruise scene," says Stephen Xuereb, CEO of Taranto Cruise Port. "Thanks to the constant promotion of the destination, implemented in synergy with the Port Network Authority of the Ionian Sea, Taranto inaugurates this second operating season with an increasingly varied range of Cruise Lines according to the type of reference market – as demonstrated by this first call of the German Phoenix Reisen – and a prolific and proactive dialogue with local businesses, aimed at the inclusion of the economic and social fabric of the city in the intense mechanisms carried out by such a growing cruise company like Taranto Cruise Port. The next stage to showcase our port will be the Seatrade Cruise Global, which will be held at the end of April in Miami: we are ready to show the world the great potential of the Port of Taranto."